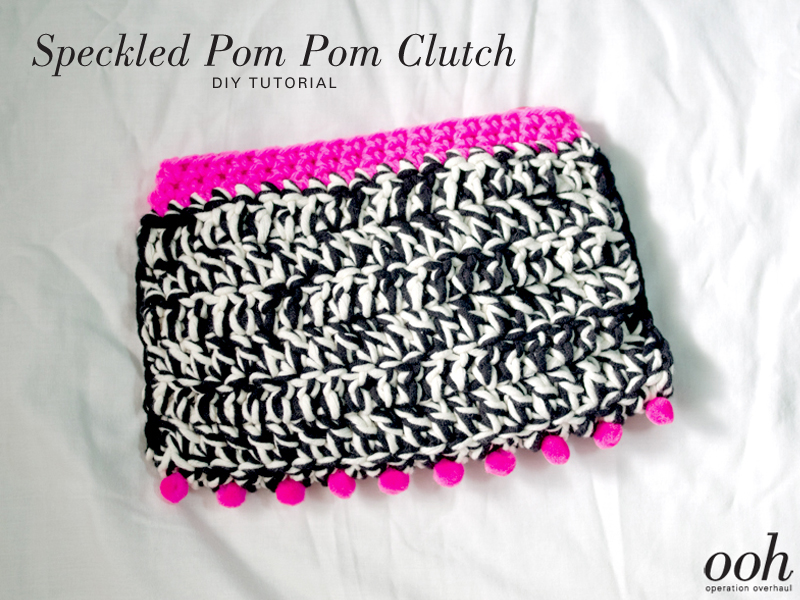 Whoopeedoodles! We sure are relieved to be back after our technical hiccup. A couple of weeks back, I got my hands on some really nice yarn, including the Jersey be Good yarn in black from Wool and The Gang thanks to a friend. I was fiddling with the thought of crocheting a clutch for myself, so that came at just about the right time.
Over here, I've crochet black and cream yarn together for a duo colour effect, while using the neon pink yarn for contrast. With the pattern below, you can easily adjust the width and height of the clutch by simply increasing or decreasing stitches. The basic stitches to master are Single Crochet and Double Crochet. If you are new to this, YouTube has many video tutorials that explain the different stitches very clearly. Read on to learn how to make this adorable pom pom clutch in your favourite colours!
Speckled Pom Pom Clutch Pattern 
Row 1: Using your main colour, chain 21. Double crochet(DC) into 2nd chain from hook. Continue for rest of the row.
R2-12: *Ch 1. DC in next stitch and down the row.* Turn.
R13: Ch 1. DC in next stitch and down the row. Finish off. Fold the main section half lengthwise and sew the sides together. Your clutch will begin to take shape now.
R14-16: Using your contrasting colour, *single crochet(SC) around the top of the clutch. Join in the top of the first sc. (40 st)* Repeat for another two rounds. Finish off.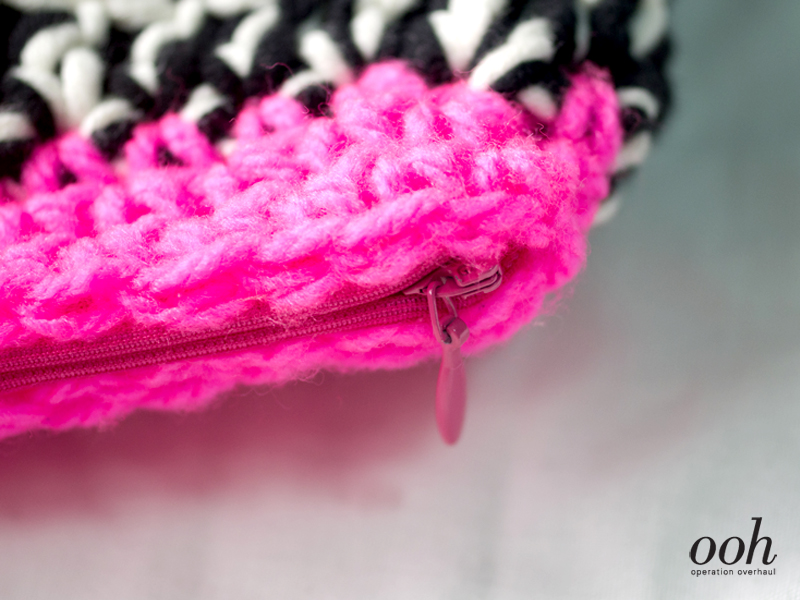 Sew on the zipper from the inside of the clutch.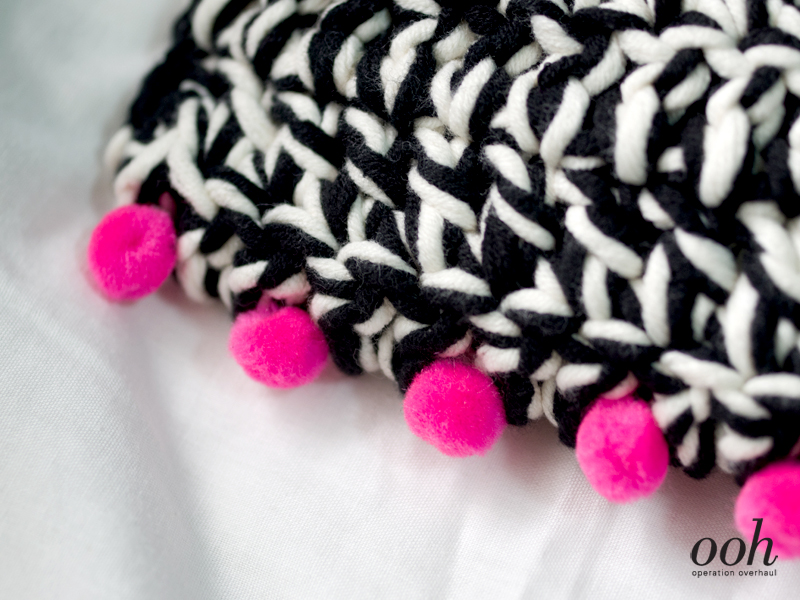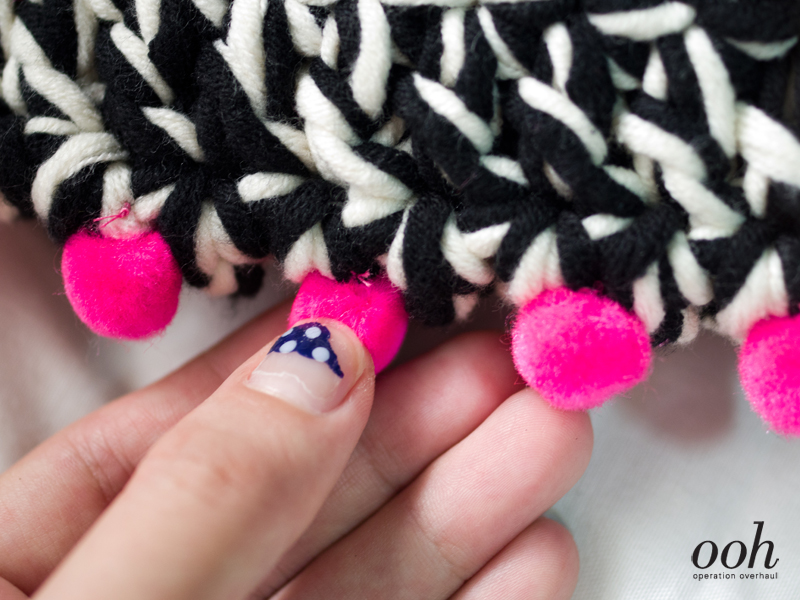 You can add embellishments like tassels and pom poms to your clutch like how I have done here. For those who are interested in making this into a sling bag, you can simply sew on D-rings on either side of clutch and attach a strap of your liking. The best of this is how it is all highly customisable to each person. You can make a minimalistic monotone clutch or go wild on embellishments. Do share with us what you've made by adding the #oohsg hashtag on your Instagram posts!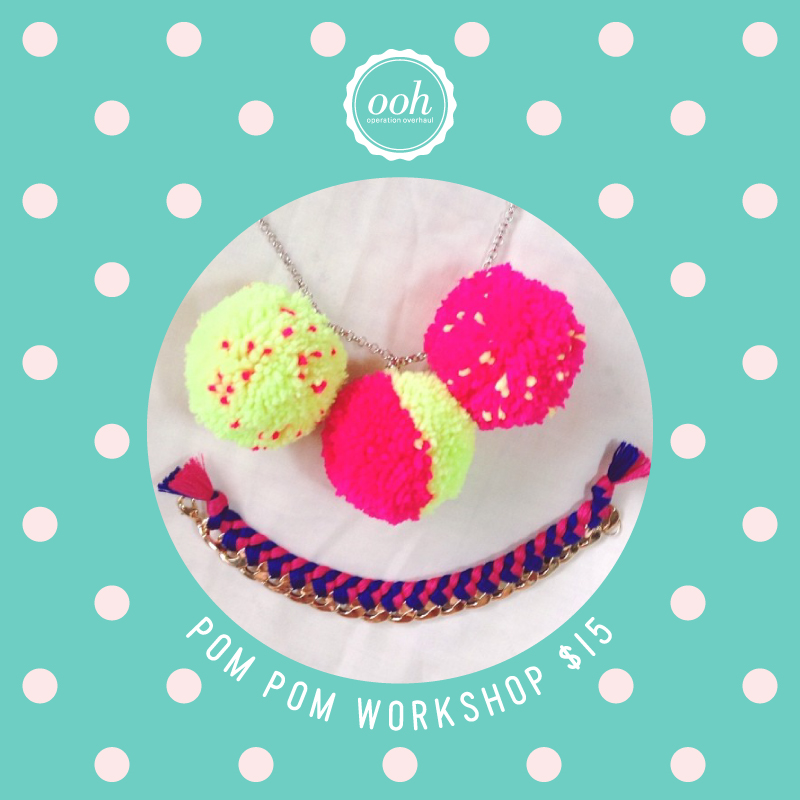 On a side note, we will be holding an open studio this Sunday, 6 July at That Spare Room, located right next to Fabulous Baker Boy. Come on down to take part in the Pom Pom Workshop at 1pm, enjoy some treats and shop for handmade accessories! Drop us an email at hello@operationoverhaul.com to register for the workshop.
—
That Spare Room
70 River Valley Road
Directly opposite Liang Court main entrance