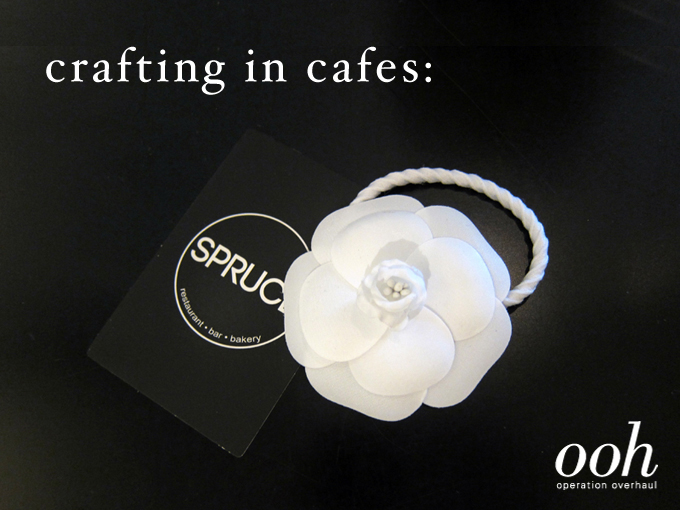 We think it's about time! Ros and I both love all-day breakfasts, crafting and cafes and we've decided to come up with a new category called "Crafting in Cafes". We usually try to visit interesting cafes with good food/ambience and with the amount of new ones popping up in Singapore — we probably have quite a long list we could potentially cover.
Apart from indulging in good coffee, food and just brainstorming for new craft ideas, we have also decided to dabble in the crafting action right in the cafe itself! The tutorials featured in the Crafting in Cafes posts would ideally be quick, simple, 5-minute DIY tutorials which should ensure that we don't get kicked out of their premises. If you have any suggestions on how we can improve, what you'll like to see, or which cafes you'll like us to check out, feel free to leave us a comment or send us an email!
We decide to head on over to Spruce, a restaurant, bar and bakery which serves American cuisine perfect for a relaxing Saturday afternoon. We made reservations the day before for the branch at Phoenix Park along Tanglin Road. Spruce has another outlet along Upper Bukit Timah at Fire Station.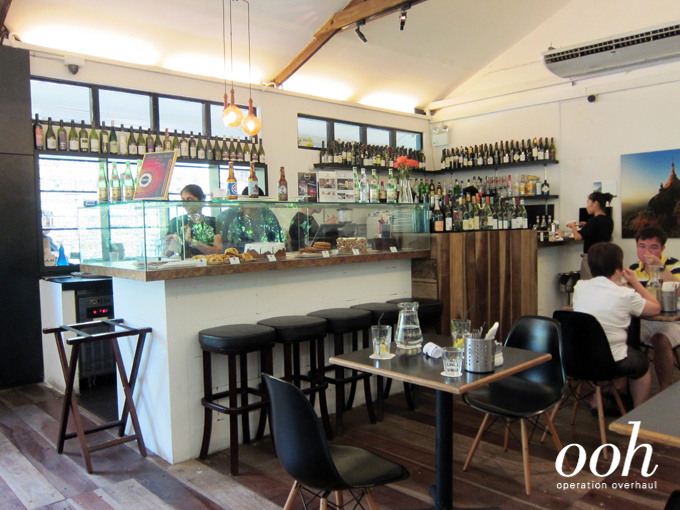 The cozy interior of Spruce which seats up to 60 people! The outdoor area for alfresco dining can fit up to 70.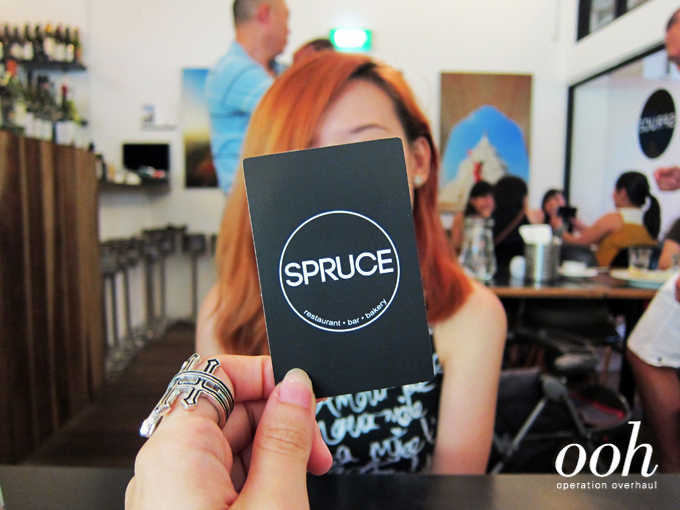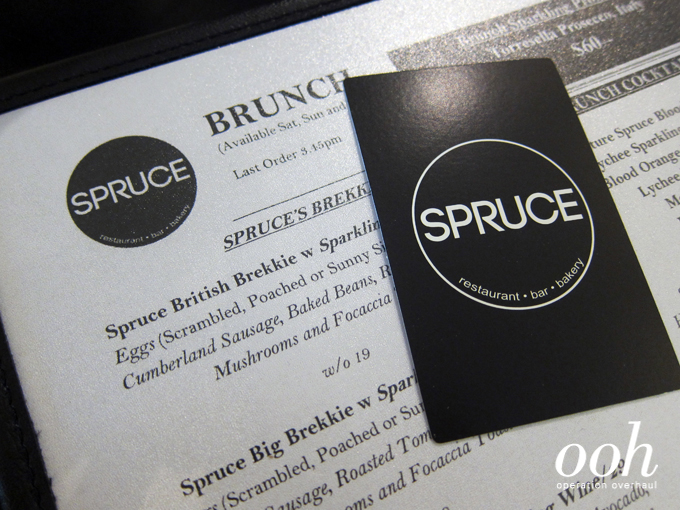 Have I already mentioned how much we love all-day breakfasts? Spruce serves brunch on Saturdays, Sundays and Public Holidays from 9am to 3.45pm and the menu is available on their website.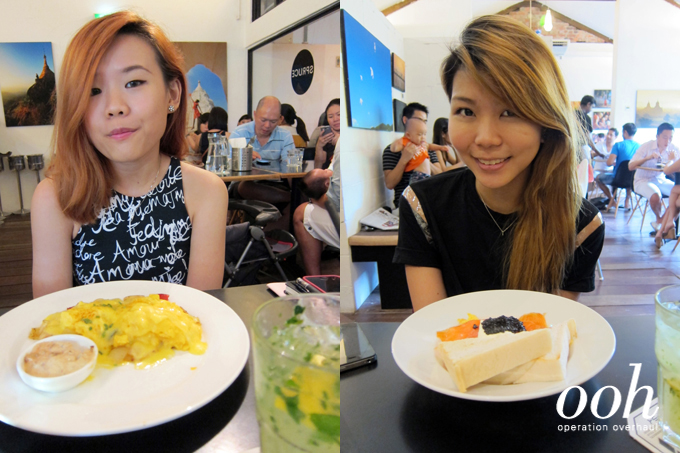 We also figured we haven't actually appeared much on the site so far and we don't look that intimidating in photos from that day so it might be a good time to introduce ourselves. Ros, 20, is a full time graphic designer and is the tiny girl to the left. Juu, 21, is currently a student at a local uni majoring in product design, and is on the right.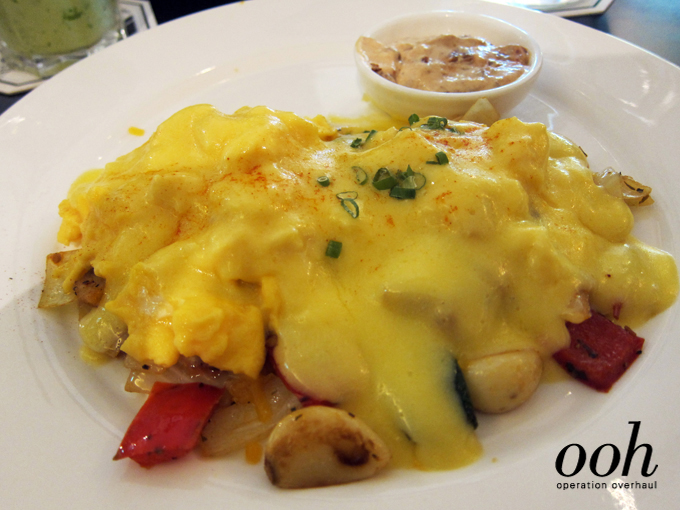 Ros ordered the Cajun Hash ($16 SGD) from the Brunch Menu. It consisted of a generous serving of roasted vegetables, potato & herbs topped with scrambled eggs and lots of hollandaise sauce. It also came with a side of Chipotle sour cream.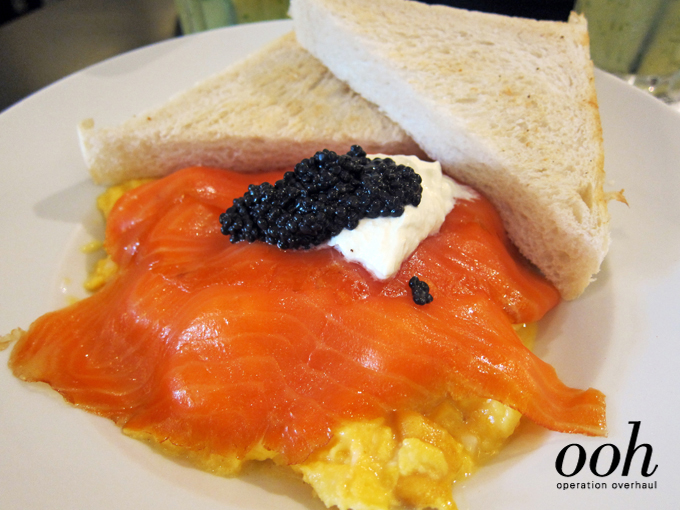 I ordered Soft Scrambled Eggs ($18 SGD), which meant I spent the next half an hour or so trying to finish the soft scrambled eggs topped with Avruga caviar and smoked salmon with thick white bread on the side.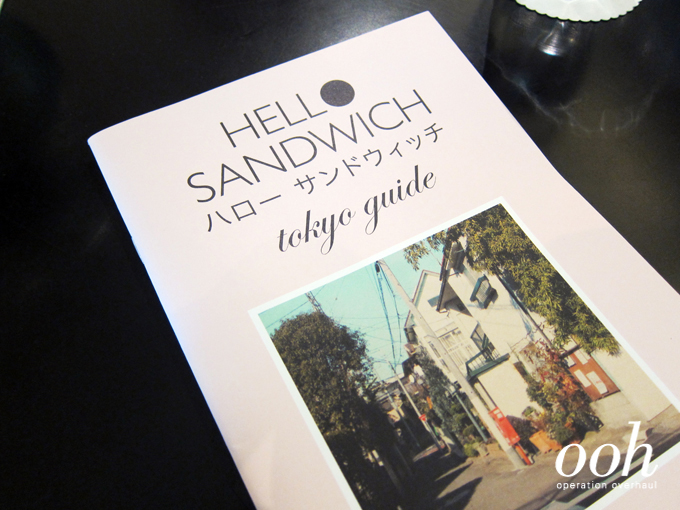 Before starting on the DIY proper, I also managed to browse through the Hello Sandwich Tokyo guide which Ros managed to get. The both of us are heading to Japan for our very first trip overseas together soon and it's all very very exciting!
THE DIY
I requested for the white camellia flowers that were stuck on the black Chanel paperbags from my sister after helping her get items from the Paris store earlier this year. I thought they would be great for DIYs and evidently many people thought the same. Check out a necklace version here and more cool ideas with the Chanel Camellia flowers here.
After getting over the shock that these flowers were actually selling on eBay for actual money (really?!?), I decided to make mine into a hairtie that could instantly help to jazz up a simple ponytail or hide the strays from a topknot.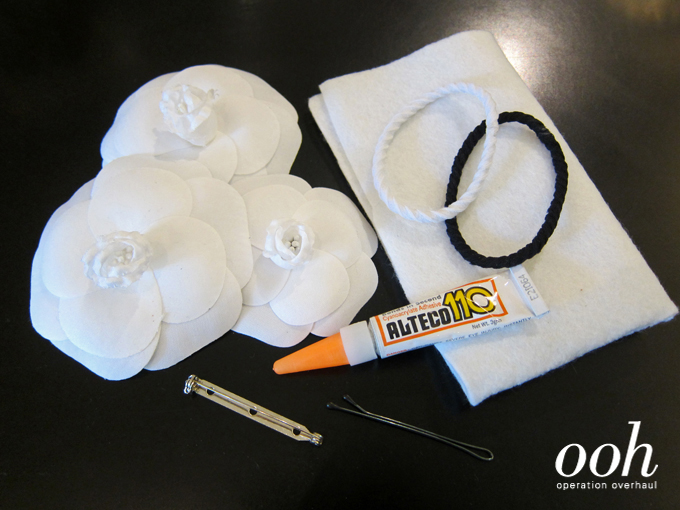 Here are the materials you need:
Chanel Camellia Flowers (or any other artificial flowers with a flat backing)
Hairties (Or brooch pin or hairpin, depending on what you'll like to create)
Felt
Fabric Glue/ Superglue
Scissors (not pictured)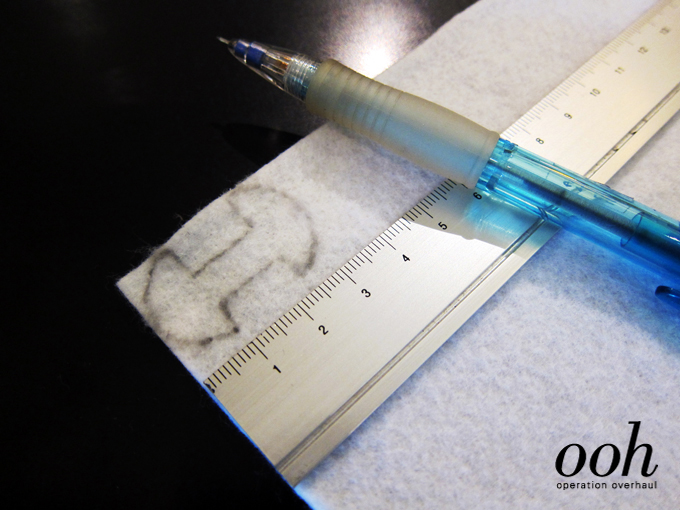 1. Draw out the shape on a piece of felt. It consists of two semi-circles with a rectangle in the middle. The size of the felt piece depends on the size of the flower. Mine measured 3.5cm across.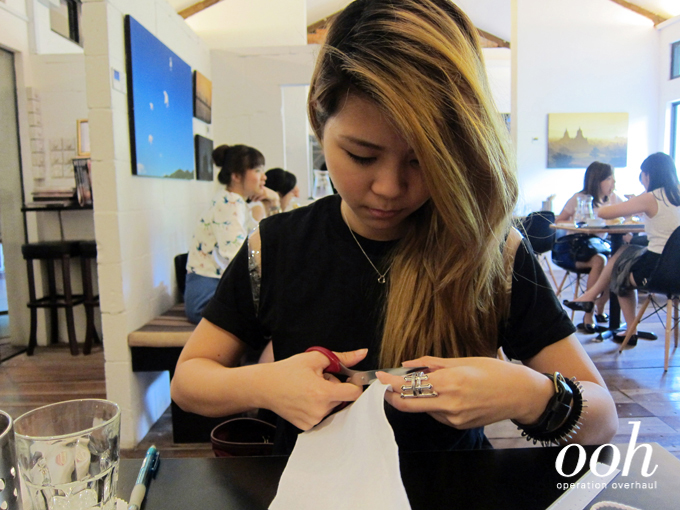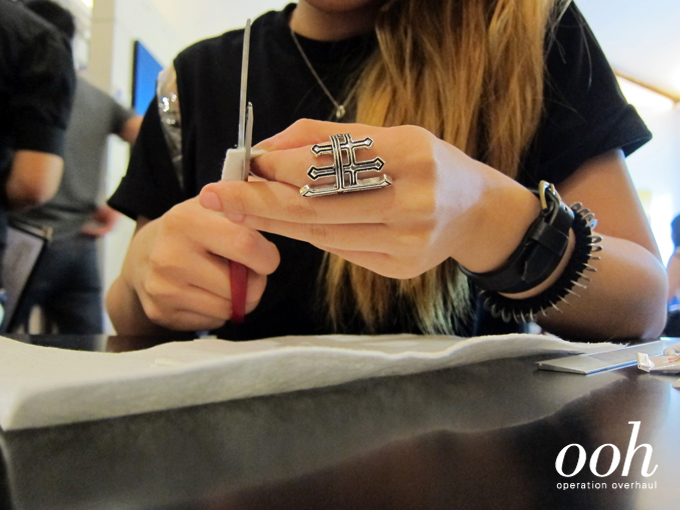 2. Proceed to cut out the felt piece you've just drawn.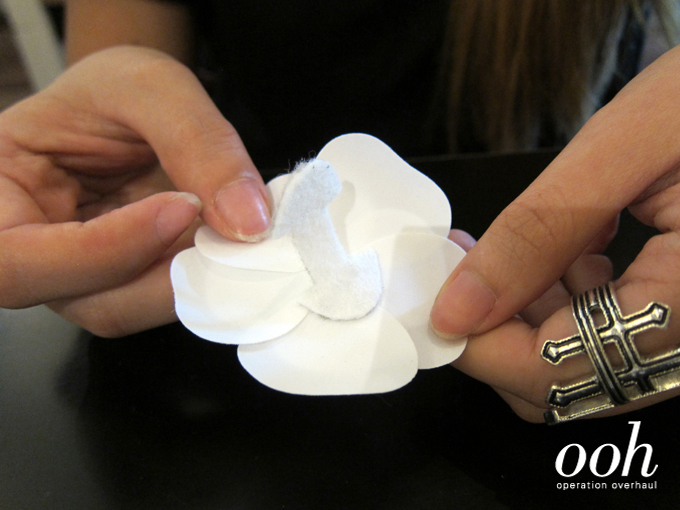 3. Flip the felt piece over to hide the pencil marks, then using glue, stick down one semi-circle on the back of the flower. Do not stick the rectangle piece!
4. Wrap the rectangle piece around your hairtie and then glue the other semi circle down right next to the first. This should create a circle shape on the back of the flower.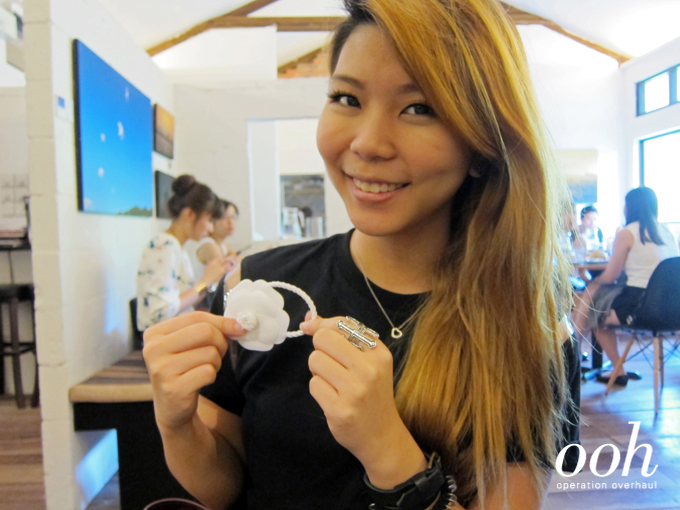 6. You've got your completed Chanel Camellia flower hairtie!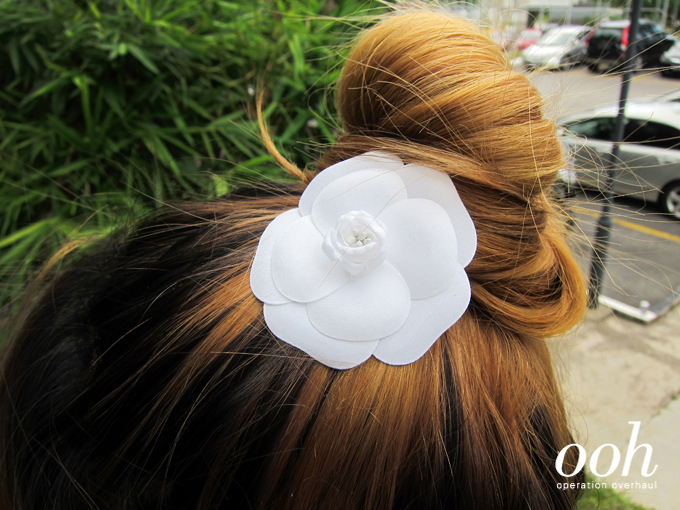 Here's it worn over a topknot! The flower itself is very feminine and made me instantly girly (according to Ros, haha). While snapping shots of it, we took a couple of our outfits as well.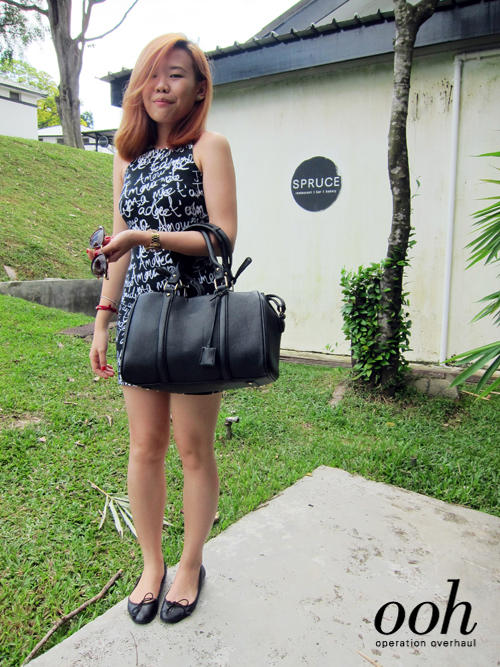 Ros // Motel dress, Taobao bag, Etsy watch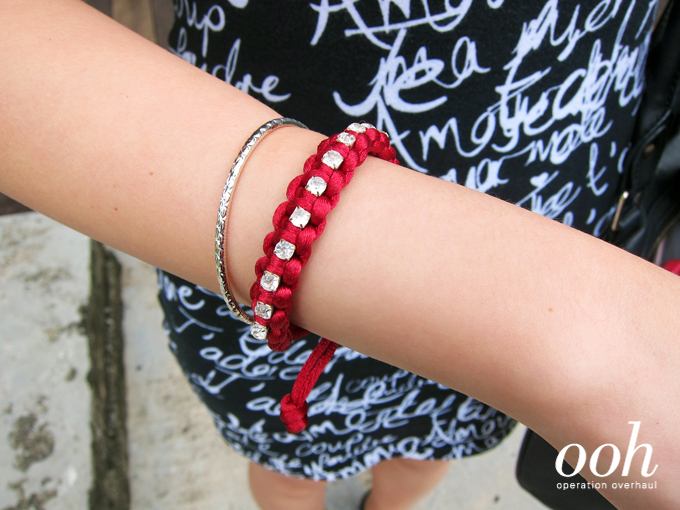 DIY braided diamante bracelet (tutorial here)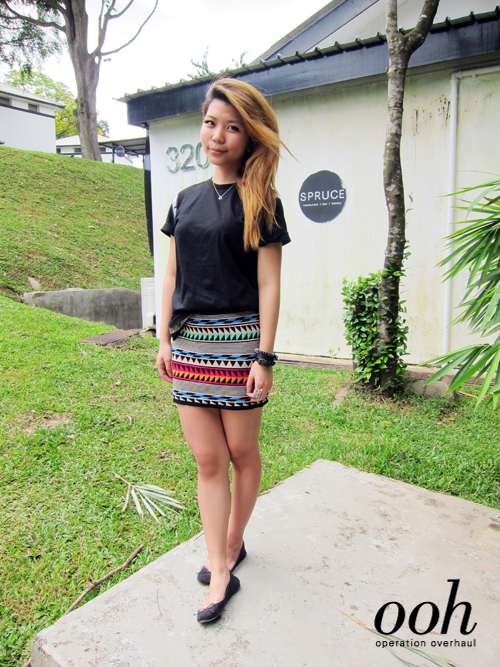 Juu // DIY tee, Forever21 skirt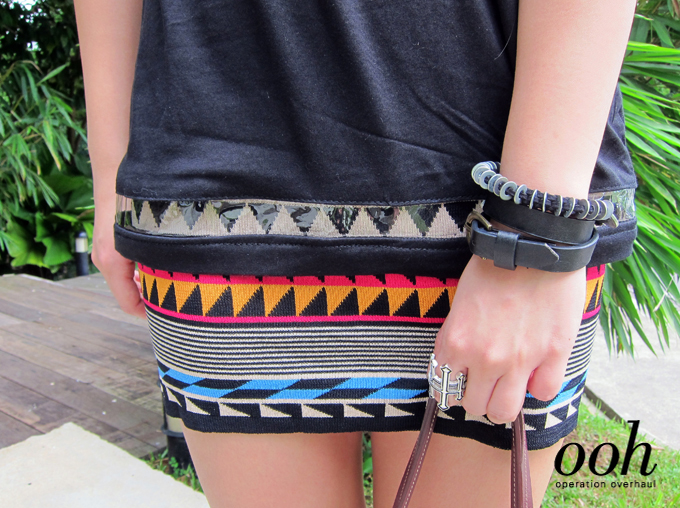 DIY washer braid bracelet (tutorial here), DIY belt bracelet (tutorial here), Topshop ring
—
We hope you've enjoyed the first post for Crafting in Cafes. Again, if you have any suggestions on how we can improve, what you'll like to see, or which cafes you'll like us to check out, feel free to leave us a comment or send us an email! xx